Matthew Perry portrays Chandler Bing in the episode "Caroline and the Folks". In this episode Chandler meets Caroline Duffy.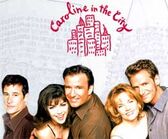 About the Tv Show
Caroline in the City is an American situation comedy that ran on the NBC television network. It stars Lea Thompson as cartoonist Caroline Duffy, who lives in Manhattan in New York City. The series premiered on September 21, 1995 in the "Must See TV" Thursday night block after Seinfeld. The show ran for 97 episodes over four seasons, before it was cancelled; its final episode, an unresolved cliffhanger, was broadcast on April 26, 1999.
Ad blocker interference detected!
Wikia is a free-to-use site that makes money from advertising. We have a modified experience for viewers using ad blockers

Wikia is not accessible if you've made further modifications. Remove the custom ad blocker rule(s) and the page will load as expected.