Cathy is a directors assistant of the movie Outbreak 2: The Virus Takes Manhattan , who . During the movie filming, can be seen talking with Susie Moss about the mustache of an actress called "Chris", who must be making out with Jean-Claude Van Damme.
Joey dated her later in the hope to get a role in the movie but she told Joey that she doesn't cast the actors.
Trivia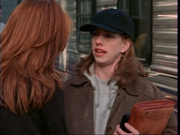 The actress who played Cathy is Lisa Roberts Gillian, Julia Roberts' elder sister who also appears in this episode playing the role of Susie.
Ad blocker interference detected!
Wikia is a free-to-use site that makes money from advertising. We have a modified experience for viewers using ad blockers

Wikia is not accessible if you've made further modifications. Remove the custom ad blocker rule(s) and the page will load as expected.