Charlie Sheen
(born Carlos Irwin Estévez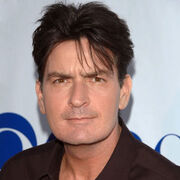 on September 3, 1965) is an American actor, known for his movie roles during the 1980s, such
Wall Street
,
Platoon, Red Dawn
and
Major League
. He is the son of actor Martin Sheen and the brother of actor Emilio Estévez.
From 2000-2002, he starred in the television sitcom, Spin City.
His most famous role on television was playing Charlie Harper on the comedy sitcom, Two And A Half Men, from 2003 until 2011, when he was fired from the show due to a public feud with the show's creator and was replaced by Ashton Kutcher. He is currently on the television comedy, Anger Management.
Some of his other movie roles include Terminal Velocity, Navy SEALs, Scary Movie 3 and its sequels, and Hot Shots and its sequel. 
He appears in the season 2 episode of Friends, The One With The Chicken Pox, as Phoebe's old flame, Ryan.
Ad blocker interference detected!
Wikia is a free-to-use site that makes money from advertising. We have a modified experience for viewers using ad blockers

Wikia is not accessible if you've made further modifications. Remove the custom ad blocker rule(s) and the page will load as expected.