Christina Applegate
(born on November 25, 1971)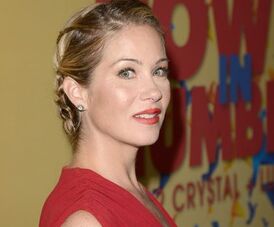 is an American actress, best known for her role as Kelly Bundy on the tv sitcom
Married... with Children
from 1987 to 1997.
She has appeared twice on Friends as Amy Green, the other sister of Rachel Green in The One With Rachel's Other Sister and The One Where Rachel's Sister Babysits. She ended up winning an Emmy for Outstanding Guest Actress in a Comedy Series for her role on the show.
Outside of Married...With Chidren, she has appeared on shows such as Family Ties, 21 Jump Street, Jessie, Samantha Who? and Up All Night. She also appeared in films such as Don't Tell Mom The Babysitter's Dead, The Sweetest Thing and Anchorman:The Legend of Ron Burgendy. In addition, she has appeared on Broadway, in the musical Sweet Charity in 2005, which she won a Tony award for.
She had previously worked with Matt LeBlanc on Married...With Children in 1991. On that show, Matt played Vinny Verducci, one of Kelly Bundy's boyfriends, whose personality seemed very similar to Joey Tribbiani. This would eventually lead to Matt having his own short lived spin-off called Top of the Heap, where she worked with him once again, before reuniting again on Friends a few years later. Friends itself would be parodied in an episode of Married...With Children called Enemies.
Ad blocker interference detected!
Wikia is a free-to-use site that makes money from advertising. We have a modified experience for viewers using ad blockers

Wikia is not accessible if you've made further modifications. Remove the custom ad blocker rule(s) and the page will load as expected.