Craig Phillip Robinson
(born October 25, 1971) is an American actor, stand-up com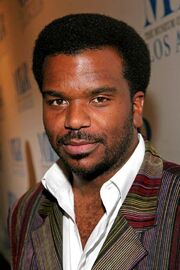 edian, and singer. He is best known for his role as warehouse foreman Darryl Philbin on the NBC comedy,
The Office
from 2005 to 2013.
He also appeared in various movies such as Hot Tub Time Machine,Tyler Perry Presents Peeples, Miss March and Night at the Museum: Battle of the Smithsonian.
He has also co-starred in films with fellow Friends guest star, Paul Rudd, some of which include The 40 Year Old Virgin, Knocked Up, This Is the End and Walk Hard: The Dewey Cox Story.
He appeared on Friends in the season 10 episode, The One With Princess Consuela, as the office clerk Phoebe talks to about changing her name.