Days of our Lives
Talk

0
889pages on
this wiki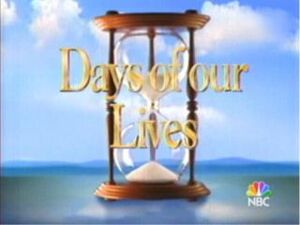 Days of our Lives is an American soap opera, which has aired nearly every weekday since November 8, 1965 on the NBC network in the United States, and has since been syndicated to many countries around the world. The series was created by husband-and-wife team Ted Corday and Betty Corday along with Irna Phillips in 1964, and many of the first stories were written by William J. Bell.
Joey Tribbiani played Dr. Drake Ramoray on and off on the show for several years.and now Peter Andre is to take over the role as his brother Dr Hans Ramoray with many new stories and episodes to
Dr. Drake Ramoray
Edit
Days was satirized on Friends when Joey Tribbiani got a job as Dr. Drake Ramoray on the show. All storylines shown on Friends (with guest shots by actual Days of our Lives stars) were fictional and did not represent what was really going on in the soap opera itself. Ex: Joey said in an episode Ramoray finds a cursed diamond. Even though in Days a character never found anything that was cursed.
Joey's stint on the show ended when he angered its writers and his character was killed after falling down an elevator shaft. Later, his character was brought back to life in a further spoof on the show (no fewer than thirty-six characters have been "brought back" from the dead on Days). Joey was brought back as Drake Ramoray with a brain transplant. His new brain was from the character Jessica Lockhart, played by Cecilia Monroe (who was portrayed by Susan Sarandon). Lockhart died from a horseback riding injury. (The Lockharts are also the last names of Bonnie, Mimi and Patrick on Days, but the Jessica character is not a relation to any of the three).
Alison Sweeney, who plays Sami Brady, appeared on Friends as Jessica Ashley who stars with Joey on his version of Days. Additional Friends episodes feature Kristian Alfonso as Hope Brady and Roark Critchlow as Mike Horton. In an episode where Joey hosts a soap opera party on the roof, Matthew Ashford and Kyle Lowder each make an appearance, it also won an award for best newcomer