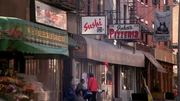 John's Pizzeria is a pizza restaurant on Bleecker Street. It is seen in "The One With The Proposal, Part 2", where Monica and Chandler Bing are talking about marriage, but he changes the topic.
The real location of the restaurant is 278 Bleecker St New York, NY 10014, very close the real location of Monica's Apartment at the intersection of Grove and Bedford streets.
The official website is johnsbrickovenpizza.com
Ad blocker interference detected!
Wikia is a free-to-use site that makes money from advertising. We have a modified experience for viewers using ad blockers

Wikia is not accessible if you've made further modifications. Remove the custom ad blocker rule(s) and the page will load as expected.