Ad blocker interference detected!
Wikia is a free-to-use site that makes money from advertising. We have a modified experience for viewers using ad blockers

Wikia is not accessible if you've made further modifications. Remove the custom ad blocker rule(s) and the page will load as expected.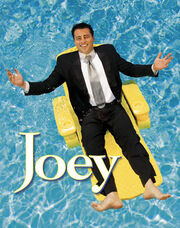 The following is a list of episodes of the Friends spin-off Joey. Joey ran for 2 seasons and consisted of 38 episodes (with 8 remaining unaired) which were first broadcast between September 9, 2004 until it was canceled in May 2006.
Overview
Season
Episodes
Originally aired
DVD release date
1
24
2004 – 2005
May 30, 2006
2
22
2005 – 2006
April 29, 2008 (Region 1)
Season 1: 2004-2005
#
Total
Image
Title
Writer
Director
Original Airdate
1
1
"Pilot"
Shana Goldberg-Meehan & Scott Silveri
Kevin S. Bright
September 8, 2004
When Joey's new TV show is cancelled and the show he turned down is a big hit, it leaves Joey kicking himself and in search of work. Joey's nephew wants to leave his mother's house and live with his cool uncle but is afraid to tell her.
2
2
"Joey and the Student"
Shana Goldberg-Meehan & Scott Silveri
Kevin S. Bright
September 16, 2004
When Joey plans to teach Michael how to pick up women, Gina invites herself along, even though the guys don't want her to come. Joey finds out that Alex is the one who has been placing complaint notes about everything he does and that everyone hates her because of this.
3
3
"Joey and the Party"
Robert Carlock
Gail Mancuso
September 23, 2004
Joey and Michael plan a party, with the hopes that Joey makes a new friend. Michael's college rival announces he'll be showing up with his girlfriend, Michael tries to compete by enlisting the help of Alex to play his fake girlfriend. Guest Star: Jayma Mays As Molly
4
4
"Joey and the Book Club"
John Quaintance
Andrew D. Weyman
September 30, 2004
To woo a girl in his book club, Michael assigns a romantic novel to the group. However, when he tries to make his move, he finds out that she is already in love with Joey. Gina makes a deal with Alex in order to get more work.
5
5
"Joey and the Perfect Storm"
Vanessa McCarthy
David Schwimmer
October 7, 2004
When Joey gets the job of understudying in three different plays, it leaves him in a tight spot when all three main actors call in sick. Meanwhile, there is a vacant apartment in the complex, and Joey, Michael, and Alex try to hide it from Gina.
6
6
"Joey and the Nemesis"
Sherry Bilsing-Graham & Ellen Plummer
Kevin S. Bright
October 14, 2004
An actor named Brian Michael David Scott repeatedly tricks Joey into missing auditions. When Michael gets sick, Gina moves into Joey's place to take care of him, and Joey moves to Gina's place to get away from them. However, when staying at Gina's, her secret boyfriend mistakes Joey for her, and snuggles up to him.
7
7
"Joey and the Husband"
Brian Kelley
Gail Mancuso
October 21, 2004
Joey finally meets Alex's husband, Eric, and is stunned when Eric is not threatened by him. Joey decides to donate his savings to Gina so she can open up her own salon, but she has second thoughts.
8
8
"Joey and the Dream Girl, Part 1"
Brian Buckner
Gary Halvorson
November 4, 2004
Gina's high school friend Donna, who Joey used to have a huge crush on, visits. Joey promises Gina he won't do anything with Donna but cannot resist. Michael learns he used to be a great baseball player when he was younger.
9
9
"Joey and the Dream Girl, Part 2"
Robert Carlock
Gary Halvorson
November 11, 2004
Joey tries to plan the perfect week for Donna, so she chooses him over her husband, who is attempting to reconcile with her. Alex discovers that she can get free stuff because she is a "hot girl".
10
10
"Joey and the Big Audition"
John Quaintance
Sheldon Epps
November 18, 2004
11
11
"Joey and the Road Trip"
Vanessa McCarthy
Kevin S. Bright
December 2, 2004
12
12
"Joey and the Plot Twist"
Story by John Pollack, Teleplay by Craig DeGregorio
Kevin S. Bright
December 9, 2004
13
13
"Joey and the Taste Test"
Shana Goldberg-Meehan & Scott Silveri
David Schwimmer
January 6, 2005
14
14
"Joey and the Premiere"
Matt Hubbard
Kevin S. Bright
January 13, 2005
15
15
"Joey and the Assistant"
John Quintance & Brian Kelley
Andrew D. Weyman
January 20, 2005
16
16
"Joey and the Tonight Show"
Doty Abrams
Andrew D. Weyman
February 3, 2005
17
17
"Joey and the Valentine's Date"
Story by Brian Kelley, Teleplay by Robert Carlock
Andrew D. Weyman
February 10, 2005
18
18
"Joey and the Wrong Name"
Story by Sherry Bilsing-Graham & Ellen Plummer, Teleplay by Matt Hubbard
Kevin S. Bright
February 17, 2005
19
19
"Joey and the Fancy Sister"
Robert Carlock & Brian Buckner
Gary Halvorson
February 24, 2005
20
20
"Joey and the Neighbor"
Story by Nicholas Darrow, Teleplay by Vanessa McCarthy
Gary Halvorson
March 24, 2005
21
21
"Joey and the Spying"
Story by Tracy Reilly, Teleplay by Brian Buckner
Kevin S. Bright
April 21, 2005
22
22
"Joey and the Temptation"
Story by Craig DeGregorio, Teleplay by Sherry Bilsing-Graham & Ellen Plummer
Sheldon Epps
May 5, 2005
23
23
"Joey and the Breakup"
Story by John Quintance, Teleplay by Nicholas Darrow
Andrew D. Weyman
May 12, 2005
24
24
"Joey and the Moving In"
Shana Goldberg-Meehan & Scott Silveri
Kevin S. Bright
May 12, 2005
Season 2: 2005-2006
#
Total
Image
Title
Writer
Director
Original Airdate
1
25
"Joey and the Big Break, Part 1"
Scott Silveri
Kevin S. Bright
September 22, 2005
Things become awkward between Joey and Alex after having sex. Due to Joey's popularity on Deep Powder, Bobbie makes some outrageous demands leading to him being fired. Gina starts working for Bobbie. A young aspiring actress moves in the complex and thinks Michael is Joey.
2
26
"Joey and Big Break, Part 2"
Robert Carlock
Kevin S. Bright
September 22, 2005
Hearing voices in his head causes Joey to blow a couple of auditions. Gina gets to tell everyone bad news for Bobbie, Michael wants Joey to go on a double date with him, and Alex wants Joey to take her on a romantic date so she feels better about sleeping with him.
3
27
"Joey and the Spanking"
Michael Borkow
Kevin S. Bright
September 29, 2005
4
28
"Joey and the Stuntman"
John Quaintance
Kevin S. Bright
October 6, 2005
5
29
"Joey and the House"
Brett Baer & Dave Finkel
Ben Weiss
October 13, 2005
6
30
"Joey and the ESL"
Vanessa McCarthy
Peter Bonerz
October 20, 2005
7
31
"Joey and the Poker"
Matt Hubbard
Kevin S. Bright
November 3, 2005
8
32
"Joey and the Sex Tape"
Linda Videtti Figueiredo
Kevin S. Bright
November 10, 2005
9
33
"Joey and the Musical"
Vanessa McCarthy
Gary Halvorson
November 17, 2005
10
34
"Joey and the Bachelor Thanksgiving"
John Quaintance
Kevin S. Bright
November 24, 2005
11
35
"Joey and the High School Friend"
Michael Borkow
Sheldon Epps
December 8, 2005
12
36
"Joey and the Tijuana Trip"
Robert Carlock
Gary Halvorson
December 15, 2005
13
37
"Joey and the Christmas Party"
Matt Hubbard & Linda Videtti Figueiredo
Gary Halvorson
December 15, 2005
14
38
"Joey and the Snowball Fight"
Tracy Reilly & Matt Hubbard
Kevin S. Bright
March 7, 2006
15
39
"Joey and the Dad"
Robert Carlock & John Quaintance
Kevin S. Bright
April 18, 2006 (in Latin America)
16
40
"Joey and the Party For Alex"
Vanessa McCarthy
Gil Cates Jr.
May 9, 2006 (in Latin America)
17
41
"Joey and the Big Move"
Jean Yu
Gary Halvorson
May 16, 2006 (in Latin America)
18
42
"Joey and the Beard"
Dan Holden & Linda Videtti Figueiredo
Peter Bonerz
May 23, 2006 (in Latin America)
19
43
"Joey and the Critic"
Michael Borkow
Ben Weiss
June 6, 2006 (in Ireland)
20
44
"Joey and the Actor's Studio"
John Quaintance
Kevin S. Bright
June 28, 2006 (in Ireland)
21
45
"Joey and the Holding Hands"
Vanessa McCarthy & Robert Carlock
Peter Bonerz
May 30, 2006 (in Latin America)
22
46
"Joey and the Wedding"
Alison Flierl & John Quaintance
Kevin S. Bright
August 23, 2006 (in Latin America)