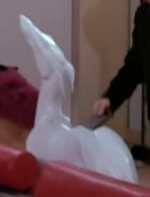 "
If that falls off the truck, it wouldn't be the worst thing...
"
Pat the dog is Joey Tribbiani's (and later Chandler's) ceramic dog. Joey first bought him when he moved in his new apartment in Season 2 after he got a role on Days of our Lives. When Joey was forced to sell everything in his home, Ross bought the dog back for him, it being the only item that Ross could afford to salvage. The dog remains a running gag over the rest of show, with several appearances.
Appearances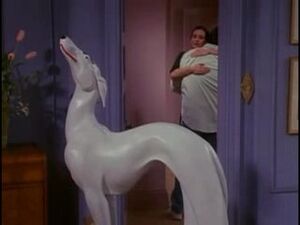 Trivia
Pat was actually a good luck gift given to Jennifer Aniston on the first day of shooting and the producers wanted to use it in the show.
When Ross buys the dog for Joey, Joey mentions he had this dog because he "had a ceramic zoo thing going around here.".