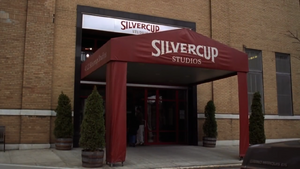 Silvercup Studios is the largest film and television production facility in New York City. Located in the neighborhood of Long Island City, in the borough of Queens, the studio complex has been operating since 1983 in the former Silvercup Bakery building. It is owned and operated by brothers Alan and Stuart Suna.
On this studios, Joey films several roles, like dying man on an untitled movie in The One Where Joey Loses His Insurance or Dr. Drake Ramoray in Days of our Lives as seen in The One That Could Have Been.
Ad blocker interference detected!
Wikia is a free-to-use site that makes money from advertising. We have a modified experience for viewers using ad blockers

Wikia is not accessible if you've made further modifications. Remove the custom ad blocker rule(s) and the page will load as expected.