Thanksgiving
Talk

0
932pages on
this wiki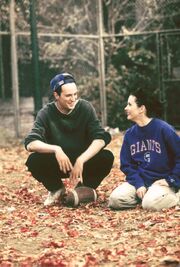 Thanksgiving is a yearly recurring event on Friends:
Season 1, The One Where Underdog Gets Away Thanksgiving is ruined, but after all they enjoy the simple Thanksgiving they have together.
Season 3, The One With The Football: a football game goes way out of control for Monica and Ross .
Season 4, The One With Chandler In A Box: they spend Thanksgiving while Chandler lives in a box, to show is regret for kissing Kathy, Joey's girlfriend
Season 5, "The One With the Thanksgiving Flashbacks" As the gang digests Monica's huge Thanksgiving meal. everyone reminisces about their worst Thanksgiving ever. 
Season 6, The One Where Ross Got High: Ross has to reveal that he told his parents Chandler was a drug addict.
Season 7, The One Where Chandler Doesn't Like Dogs: Chandler has to reveal why he hates dogs when Phoebe sneaks one into his apartment.
Season 8, The One With The Rumor: Monica invites an old high school friend to Thanksgiving, unaware that he and Ross had a "we-hate-Rachel" club .
Season 9, The One With Rachel's Other Sister: Rachel's self-centered little sister shows up, ruining Thanksgiving for them
Season 10, The One With The Late Thanksgiving: is late for thanksgiving, leading to Monica locking them out.